Can you sustain 36 hours non-stop work for a more sustainable world?
Watch GreenHack 2022 – Closing Ceremony HERE:
Winners of GreenHack 2022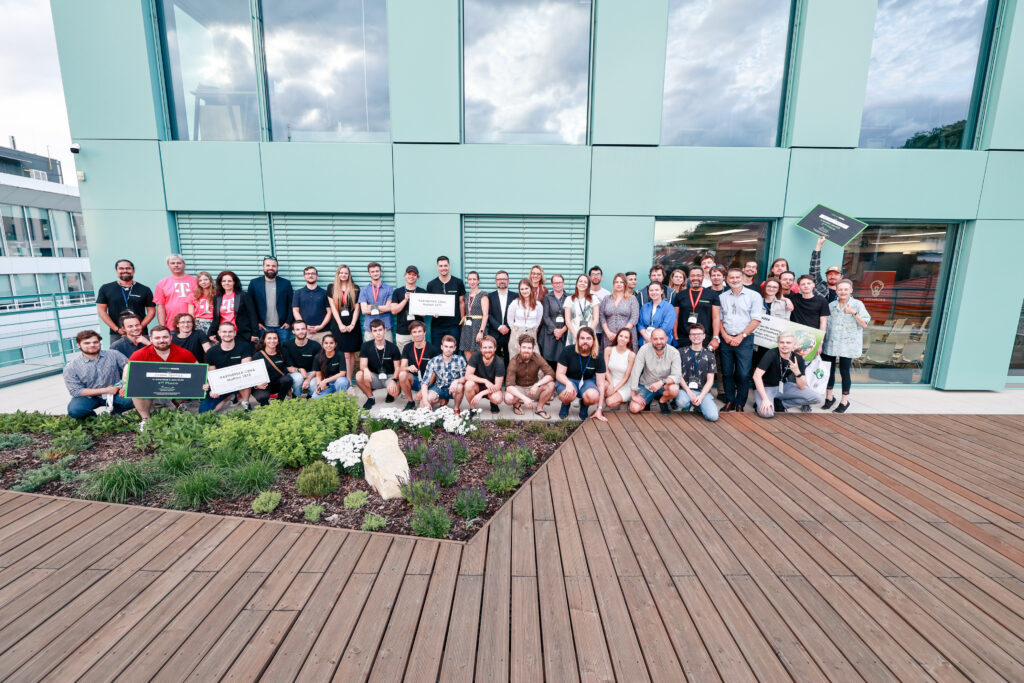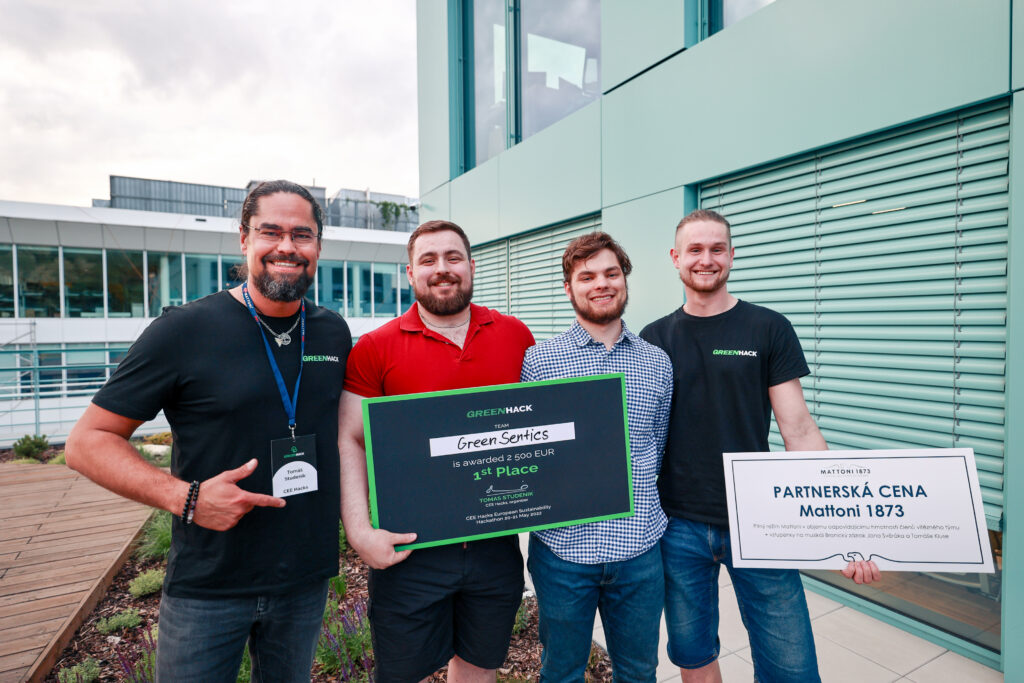 Congratulations to UnicornHackers - 2nd Place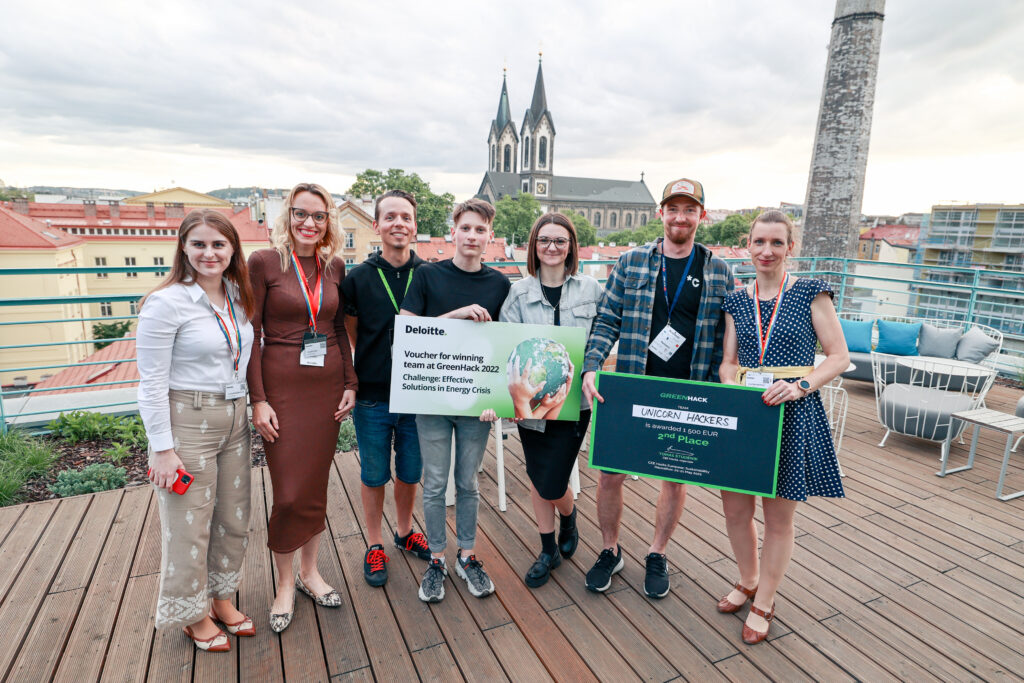 Congratulations to No fluffy backup - 3rd Place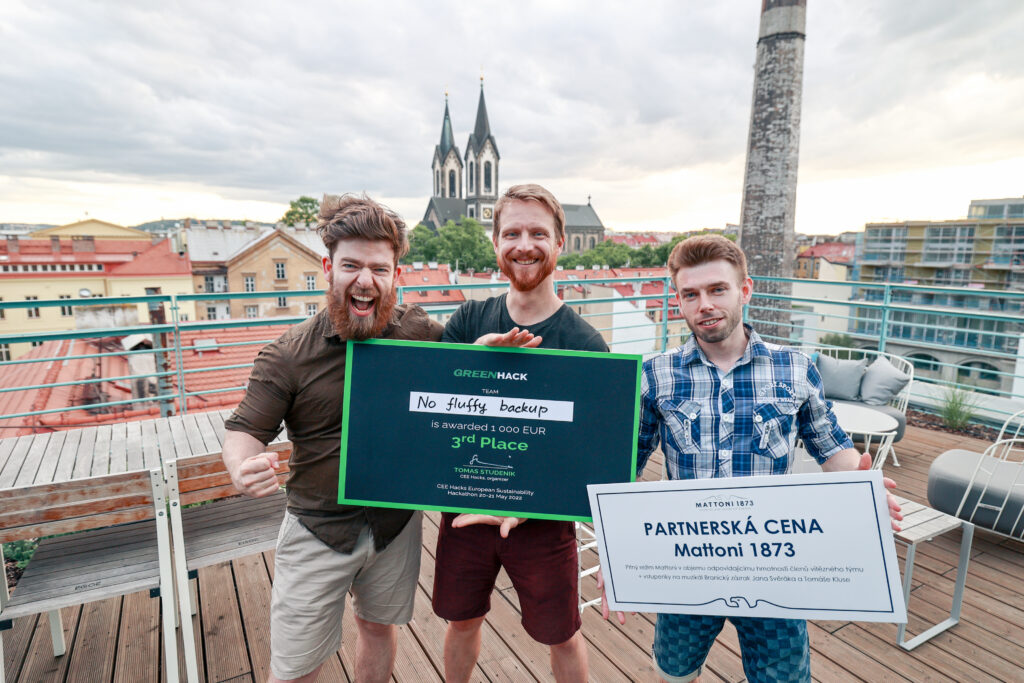 All solutions, photos & press release
GreenHack is an international hackathon tackling sustainable development and future challenges. We are not afraid of the big issues. Climate change, overconsumption, irresponsible production and poor resource management. Let's take them on.
We are certain that technology, together with our willingness to behave differently, is key to solving 21st century issues. Will you give it a try?
Over a hundred masters of innovation, nascent technologies and new materials, product and service design as well as human psyche will fight the environmental doom mankind is facing. The battle will last two days, non-stop. Dare to join in?
GreenHack will centre around sustainability of buildings in all its facets: energy consumption, waste management, building and fitting materials, green logistics as well as prop tech opportunities to improve life cycle carbon footprint of office and home.
Main prize: 2 500 €
2nd Prize: 1 500 €
3rd Prize: 1 000 €
Partner prizes:
Mattoni 1873: Tickets to KVIFF (film festival) + accomodation
T-Mobile: 2 x Unlimited half-year FREE tariffs for all team members
Deloitte: Vouchers to Deloitte Academy (3 500 Kč for each team's participant)
Vouchers to Alza.cz (2 000 Kč for each team's participant)
Cyrkl: Dinner in Prague with CEO & waste experts from Cyrkl
Excursion to a recycling company that is part of Cyrkl
Technological mentoring in product implementation
ČEPS: Powerful Solar Power Charger
1. Beverage packaging VS. augmented reality
Use beverage packaging (PET, glass, can) as a gateway to augmented reality – the story of mineral water, that will show:
– Background information about water – how it is created and explaining its bioquality
– Sustainability and circularity – what happens to the beverage packaging after use
– The importance of a proper drinking regime
Majority of beverage packaging (PET bottles and cans) in 12 European countries is collected through a system of machines where it is necessary to input uncrumpled beverage packaging only. That might be a problem. Develop a solution that would allow the beverage packaging to be identified in all conditions!
3. Deposit bottles home storage
If the return of crumpled PET bottles to collection machines is not resolved in the foreseeable future, how can it be easier for people to store undamaged empty PET bottles at home? Think of the best solution so that the bottles can be transferred to the store convenietly.
4. Take me home: Electronic Devices Take-back Campaign
Come up with a digital communication campaign strategy including execution of your creative idea to motivate people to return all sorts of old unused electric devices they may have at home to bring those to any T-Mobile branch. These mainly include mobile phones, tablets, PCs, routers, chargers, powerbanks and set-top boxes. Make sure you make the whole process convenient, fun and sustainable for your target group
5. Wrap me green: alternative to bubble paper envelopes
Come up with an alternative to the common bubble paper envelope. Everyone uses them. We still send out forty thousand phones and other accessories in traditional packaging that is so hard to recycle. Big changes start with what is within our reach, so we ask you to propose a different kind of wrap: sustainable, safe, affordable and easy-to-use. Think of new materials, new technologies, new behaviours and sharing economy.  
6. Material Passports for Circular economy
To address the climate change, we believe that a circular economy is a necessity, not a choice. Material passport has to offer an opportunity to gather and organise data about various materials in an effort to find the best possible way of handling. 
7. Circular Economy & Transportation
A lot of waste materials have great value today, especially for the biggest companies, which produce high volumes. But for middle-sized companies, which produce lesser amounts, it is difficult to find a recycling partner, because of high transportation costs. Can you design a system, which could solve this issue?
8. Effective solutions in Energy crisis
Come up with a new creative strategy for Effective solutions in context of gas and electricity crisis in the Czech Republic. How would you achieve more efficient gas and electricity usage for Czech industry, households and storage? What kind of technologies – green hydrogen, heat pumps, biogas, insulations etc.; in which new forms – community centers, new gas pipelines etc. would you develop?
9. Grid Control by drones
We have thousands of pictures from drones of the national Grid infrastructure (Masts and mast´s components – f.e. isolators). The task is to recognize types of masts on the pictures – "mast types recognition". Hack team should prepare the solution for recognition specific masts by name and deliver output.


THURSDAY – 19 May
Pre-Hack Day
11:00 – Mattoni 1873 workshop
15:30 – T-Mobile workshop
16:00 – 17:00 – Deloitte workshop
19:00 – Team formation for individual participants
FRIDAY – 20 May
Hack Day #1
09:00–09:40 – Welcome & Keynotes
09:40–10:00 – Organization & Rules
10:00–11:00 – Challenge presentations
11:00–11:30 – Mentor introduction
11:30 – Hacking starts
12:00–15:00 – Challenges Q&A
17:00–17:20 – Organization Q&A
20:00 – Checkpoint
SATURDAY – 21 May
Hack Day #2
09:00–10:00 – Workshop: How to make a great video?
10:00–10:30 – Checkpoint
14:00 – Submissions deadline
18:30–19:00 – Winners announcement
19:00 – Outdoor afterparty
Praga Studios – Edwards Lifesciences offices*
* All COVID-19 safety and health measures will be taken. Participants & partners will be informed in advance.​
GreenHack is part of EU Green Week 2022 initiative by European Commission and is organized under auspices of The Ministry of the Environment & Ministry of Industry and Trade of the Czech Republic, the City of Prague and the Embassy of Netherlands.
What was GreenHack 2021 like?
Have a look at the hacks that came from GreenHack 2021
Have a look at the hacks that came from GreenHack 2021
Do you want to become a partner of GreenHack 2022?
Drop us a line!